Fine Molds

Sujet

IJA Main Battle Tank Type 97 SHINHOTO CHI-HA New Turret

Scale
1/35
Ref
FM21
A model of the brand Fine Molds the kit IJA Main Battle Tank Type 97 SHINHOTO CHI-HA New Turret – Fine Molds FM21
Medium Tank Type 97 has been formally adopted coincided with the outbreak of Sino incident will bring up a spectacular Senka continued until the early Greater East Asia War. Will be in 57mm caliber gun was the focus of the cooperation will not get a straight infantry anti-tank force in combat, but soon an uphill battle. Completed in 1942 is an improved variant as equipment that embodies the high muzzle velocity antitank gun was put in mind of the initial stage of development than was equipped with a tank gun turret and a large 47mm. Was active as ready from the previous notice sent to the Philippines formally adopted.
Source: Fine Molds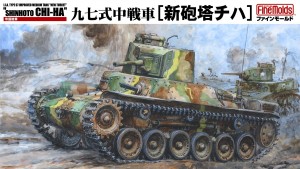 Wait, Searching Fine Molds FM21 for you…

Find kits on eBay:
Search on eBay

Search for what you need, We suggest this but it is you who decide

...
Related kits:
Views : 1331