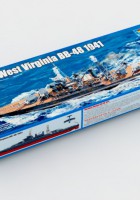 Ref
05771
Geben
Model kit
Skala
1/700
Thema

USS West Virginia BB-48 1941
Ein Modell der Marke Trumpeter das kit: USS West Virginia BB-48 1941 – Trumpeter 05771.
Das kit besteht aus über 440pcs : 17 sprues, upper hull, lower hull, waterline plate, deck and stand.
USS West Virginia (BB-48), a Colorado-class battleship, was the second ship of the United States Navy named in honor of the 35th state. Her keel was laid down on 12 April 1920 by the Newport News Shipbuilding and Drydock Company of Newport News, Virginia. She was launched on 19 November 1921 sponsored by Miss Alice Wright Mann, daughter of Isaac T. Mann, a prominent West Virginian; and commissioned on 1 December 1923, Captain Thomas J. Senn in command.[1] As the most recent of the "super-dreadnoughts", West Virginia embodied the latest knowledge of naval architecture; the watertight compartmentation of her hull, and the scale of her armor protection, marked an advance over the design of battleships built, or on the drawing boards before the Battle of Jutland.
Source: Trumpeter
Warten Sie, Suchen Trumpeter 05771 für Sie...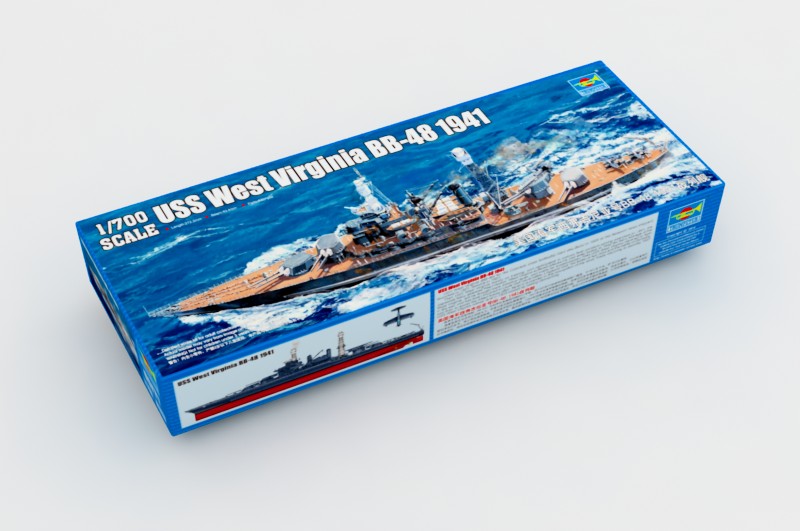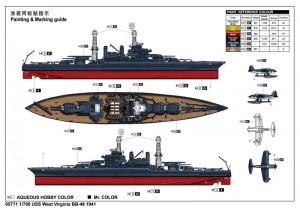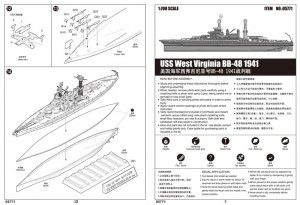 Warten Sie, Suchen, USS West Virginia, für Sie...
You can see also :
Find items about "USS West Virginia" on AliExpress:
Aufrufe : 585
Find by:
戦艦ウェストヴァージニア
uss west virginia
USS Maryland BB-46
купить сборный корабль западная вирджиния
uss west virginia photos
バージニア 動画
uss virginia
USSウェストバージニア
trumpeter neuheiten 2016
trumpeter uss virginia
shipfitter uss west virginia
review for uss west virgenia 1945 from trumpeter
colorado csatahajo
BB-48 drawing
bb-48 웨스트 버지니아
BB-48 ウェストバージニア
1945 ウェスト・バージニア
1/700 米国海軍 戦艦 ウェスト・ヴァージニア 1941
1/700 戦艦ウェストヴァージニア
1/700 uss west virginia bb48 battleship 1945