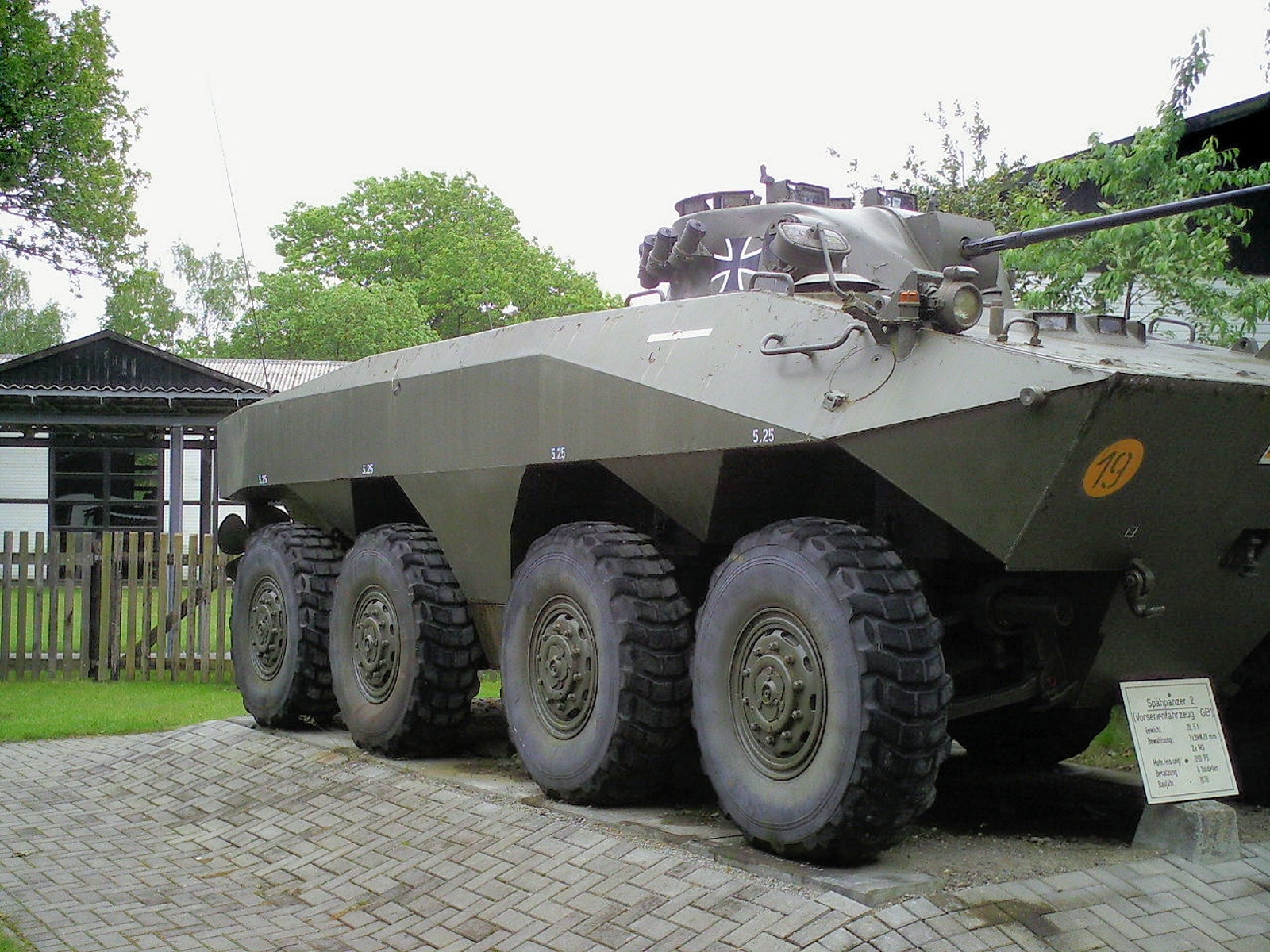 Spahpanzer 2 Prototype

Land
West-Deutschland
Geben
Armored Car
Foto
Ulrich Wrede
Thema

Album

18

Fotos walk-around von einer «Spahpanzer 2 Prototyp»
Foto-Galerie Spahpanzer 2 Prototype, The Spähpanzer Luchs (English: Lynx) is a German 8×8 amphibious reconnaissance armoured fighting vehicle (Spähpanzer) in service since 1975 with the German Army, who used 408 in their armoured reconnaissance battalions. It was developed by Daimler-Benz[1] between 1968 and 1975, replacing the M41 and the Schützenpanzer SPz 11-2 Kurz. The all-wheel drive Luchs made by Thyssen-Henschel (now: Rheinmetall) is well armoured, has an NBC protection system and is characterized by its low-noise running. The eight large low-pressure tyres have run-flat properties. At speeds up to about 50 km/h, all four axles can be steered. As a special feature, the vehicle is equipped with a rear-facing driver with his own driving position. Up to the first combat effectiveness upgrade in 1986, the Luchs was fully amphibious and could surmount water obstacles quickly and independently using propellers at the rear and the fold back trim vane at the front.
Warten Sie, Suche Spahpanzer 2 Prototyp-Fotos für Sie...

Verwandte kits:
Finden kits auf eBay:
Suche auf eBay
Suche für das, was Sie benötigen, Wir empfehlen dies, aber es ist Ihr, die entscheiden
Sie können siehe auch :
Find items about "Panzer" on AliExpresS :
Aufrufe : 1299