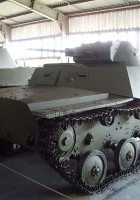 T-40S

Country
Soviet Union
Location
Kubinka Armor Museum, Russia
Type
Amphibious light tank
Production
1940–41 (222 built)
Description

Album of

48

photos walk-around of a «T-40S tank»
Photo Gallery of a T-40S tank, The T-40 amphibious scout tank was an amphibious light tank used by the Soviet Union during World War II.
Amphibious capability was important to the Red Army, as evidenced by the production of over 1,500 amphibious tanks in the 1930s. The T-40 was intended to replace the aging T-37 and T-38 tank light amphibians. It was a superior design, but due to the pressures of war the Soviets favored the production of simpler tank designs, and only a small number of T-40s were built.
Source: Wikipedia
Wait, Searching Russian T-40S tank photos for you…
Wait, Searching Russian T-40S tank for you…
Find items about "light tank 1/35" on AliExpress (c):
Find by:
T-40S
panzer t 40
new rusia tank v 40
radzieckie czołgi T-40 i T-50
rosyjski czołg t40
soviet t 40
soviet T-40s
soviet t40 tank
t 40 amphibious tank
NEW ARMY TANK T 40
models of t40 tank
models of t-40 tank
戦車 各部の名称
carrarmato anfibio wikipedia
czołg t40
envejecer tanques
fabbri 1/72
fotos de maquetes sobre anfibios
hobbyboss T-40S
maquette T40 ww2