Wydawnictwo Militaria

Series
Aircraft
Topic

Bomber Martin B-26

Ref
137
A documentation signed Wydawnictwo Militaria the book "Martin B-26 – Wydawnictwo 270" .
Le Martin B-26 Marauder est un bombardier moyen américain utilisé pendant la Seconde Guerre mondiale sur le front européen et dans la guerre du Pacifique. À la fin de la guerre, 5 157 exemplaires ont été construits. Baptisé Marauder this aircraft is presented as a high-wing monoplane cantilever to the fuselage spacious, of circular cross-section, in which takes place a crew of five men (and then seven). Equipped with a tricycle landing gear, the aircraft is powered by two radial engines Pratt & Whitney R-2800-5 1,850 hp (1 380 kW) each. Pursuing his career, the Marauder must record the loss rate is the lowest of all the us aircraft used in Europe by the 9th USAAF.
Source: Martin B-26 on Wikipedia
Wait, Searching Wydawnictwo 137 for you...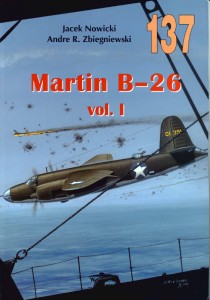 Wait, Searching Martin B-26 for you...
You can see also :
Find items about "martin b-26" on AliExpress:
Views : 165
Find by:
b-26 marauder
martin b 26
Martin B-26 club
martin b-26 marauder bausatz von revell 1966
martin b-26b marauder
Б-26 мародер фото смотреть
マーチンB-26