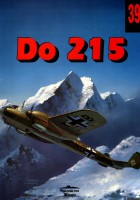 Dornier Do 215

Editor
Wydawnictwo Militaria
Series
Aviation Military
Period
Second world war
Ref

039
A documentation signed Wydawnictwo Militaria the magazine "Dornier Do 215 – Wydawnictwo Militaria 039" .
Le Dornier Do 215 is a light bomber, flight, aerial reconnaissance and later a night fighter, produced by Dornier Werke GmbH originally produced for export in the fire of the war he served in the Luftwaffe. Like its predecessor, the Dornier Do 17 and he has inherited the title "pen drive" because of its thin skin. The successor of the Do 215 was the Dornier Do 217.
Source: Dornier Do 215 on Wikipedia
Wait, Searching Wydawnictwo Militaria 039 for you...
Wait, Searching Dornier Do 215 for you...
You can see also :
Find items about "Dornier" on AliExpress (c):
Views : 218
Find by:
1/48 dornier do-24k
dornier do 215b-5 nightfighter
dornier do-215b-4
feldpost archiv
sabingamartin publications
ドルニエ Do215 B-4