Waffen Arsenal

Series
Waffen Arsenal
Sujet

Panzer IV

Réf
014
Signed documentation Waffen Arsenal la revue «Panzer IV – Waffen Arsenal 014» .
The Panzerkampfwagen IV (PzKpfW IV), often referred to as Panzer IV, was a tank used by Nazi Germany during World War II. Originally designed as a fire support tank, with a short 75 mm gun, for the Panzerkampfwagen III, it eventually replaced the panzerkampfwagen III when allied tanks became too protected for the pan. Re-equipped with a long anti-tank gun, the PzKpfW IV was the main German tank during the second part of the war with more than 9000 copies produced and gave birth to many versions.
Source: Wikipedia
Wait, Searching Waffen Arsenal 014 for you…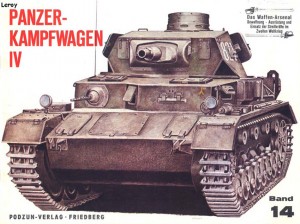 Wait, Searching Panzer IV for you...

Views : 728