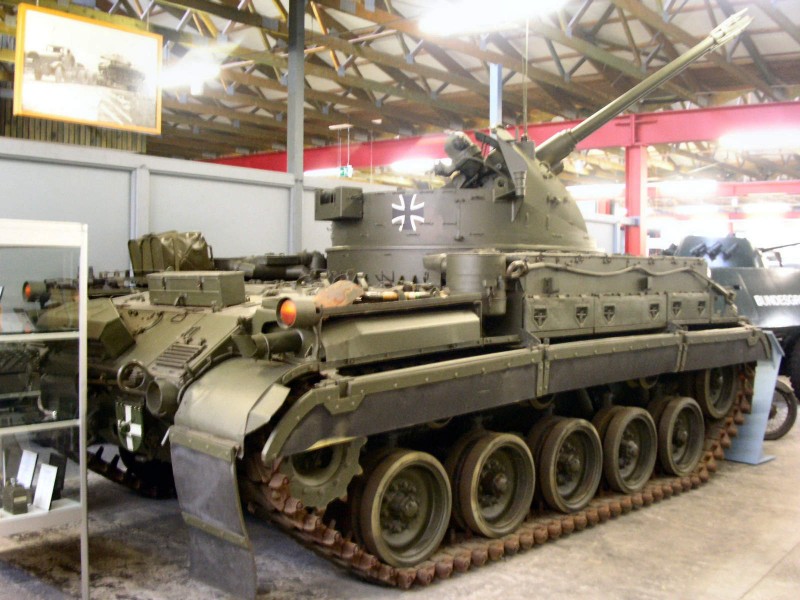 M42 Duster

Roll
Självgående Luftvärnskanon
Landet
USA
Byggt

3200
Den M42 40 mm Self-Propelled Anti-Aircraft Gun, or "Duster," is an armored light air-defense gun built for the U.S. Army from 1952 until December 1959. Production of this vehicle was performed by the tank division of the General Motors Corporation. It used components from the M41 light tank and was constructed of all welded steel. A total of 3,700 M42s were built. The vehicle has a crew of six and weighs 22,500 kg (49,500 lb) fully loaded. Maximum speed is 45 mph with a range of 100 miles. Armament consists of fully automatic twin 40 mm M2A1 Bofors, with a rate of fire of 2×120 rounds per minute (rpm) and either a .30 caliber Browning M1919A4 or 7.62mm M60 machine gun. The 500 hp, six-cylinder, air-cooled, gasoline engine is located in the rear of the vehicle. Although the M42 Duster was initially designed for an anti-aircraft role, it proved highly successful when used in the Vietnam War against unarmored ground forces.
Källa: M42 Duster på Wiki
M42 Duster
Fotograf
Unknow
Lokalisering
Unknow
Foton
59
Vänta, Söker M42 Duster för dig...

Relaterade kit:
M42 Duster Walk Around
Fotograf
Ulrich Wrede
Lokalisering
Unknow
Foton
31
Hitta kit på eBay:
Sök på eBay
Sök efter vad du behöver, Vi föreslår detta, men det är du som bestämmer
Du kan också se :
Views : 1996