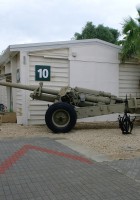 130 mm dragna field pistol M1954 (M-46)

Landet
Sovjetunionen
Typ
Field pistol
Beskrivning

Album

110

foton walk-around "130mm M46"
Fotogalleri från en 130mm M46, The 130 mm towed field gun M-46 M1954 (Russian: 130-мм пушка M-46 обр. 1954 г.) is a manually loaded, towed 130 mm artillery piece, manufactured in the Soviet Union in the 1950s. It was first observed by the west in 1954. There is also a Chinese copy, called Type 59. For many years, the M-46 was one of the longest range artillery systems around, with a range of more than 27 km.
Källa: 130mm M46 på Wikipedia
Vänta, Söker 130mm M46 bilder för dig...

Vänta, Söker 130mm M46 för dig...

Relaterade kit:
Hitta kit på eBay:
Sök på eBay
Sök efter vad du behöver, Vi föreslår detta, men det är du som bestämmer
Du kan också se :
Du kan kommentera här :
130 mm dragna field pistol M1954 (M-46) – WalkAround från u/PhilTheNet
Visningar : 2232
Hitta genom att:
yhsm-inucbr_001
130mm m46 russian field gun
130mm russian field gun
130mm m-46 field guns
nashorn hornisse
gun 130mm m46
Artillery 130mm view
130mm m46 gun
130 mm оръдие
cañon ruso 130mm
130mm m46 russian field gun price
130 m 46
cañon m-46 130 mm
130 mm gun
130 mm gun drill
130mm m46
M1954 artillery
130 mm M46 gun ka images
130 mm M46
130 mm M-46 costs $