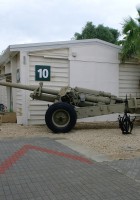 130 mm remolcado campo de la pistola M1954 (M-46)

País
Unión Soviética
Tipo de
Campo de arma de fuego
Descripción

Álbum de

110

fotos de paseo alrededor de un "130mm M46"
Galería de fotos de un 130mm M46, The 130 mm towed field gun M-46 M1954 (Russian: 130-мм пушка M-46 обр. 1954 г.) is a manually loaded, towed 130 mm artillery piece, manufactured in the Soviet Union in the 1950s. It was first observed by the west in 1954. There is also a Chinese copy, called Type 59. For many years, the M-46 was one of the longest range artillery systems around, with a range of more than 27 km.
Fuente: 130mm M46 en la Wikipedia
Espera, la Búsqueda de 130mm M46 fotos para usted...

Espera, la Búsqueda de 130mm M46 para usted...

Relacionados con los kits:
Encontrar kits en eBay:
Búsqueda en eBay
La búsqueda de lo que necesita, sugerimos que este, pero es usted quien decide
Se puede ver también :
Puedes comentar aquí :
130 mm remolcado campo de la pistola M1954 (M-46) – WalkAround de u/PhilTheNet
Vistas : 2363
Buscar por:
yhsm-inucbr_001
130mm m46 russian field gun
130mm russian field gun
130mm m-46 field guns
nashorn hornisse
gun 130mm m46
Artillery 130mm view
130mm m46 gun
130 mm оръдие
cañon ruso 130mm
130mm m46 russian field gun price
130 m 46
cañon m-46 130 mm
130 mm gun
130 mm gun drill
130mm m46
M1954 artillery
130 mm M46 gun ka images
130 mm M46
130 mm M-46 costs $