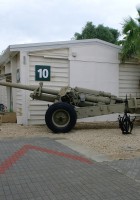 130 mm slept felt pistol M1954 (M-46)

Land
Sovjetunionen
Type
Felt pistol
Beskrivelse

Album av

110

bilder walk-rundt av en "130mm M46"
Bildegalleri av en 130mm M46, The 130 mm towed field gun M-46 M1954 (Russian: 130-мм пушка M-46 обр. 1954 г.) is a manually loaded, towed 130 mm artillery piece, manufactured in the Soviet Union in the 1950s. It was first observed by the west in 1954. There is also a Chinese copy, called Type 59. For many years, the M-46 was one of the longest range artillery systems around, with a range of more than 27 km.
Kilde: 130mm M46 på Wikipedia
Vente, Søke 130mm M46 bilder for deg...
Vente, Søke 130mm M46 for deg...
Du kan se også :
Find items about "field gun" on AliExpress (c):
Views : 1446
Søk etter:
yhsm-inucbr_001
130mm m46 russian field gun
130mm russian field gun
130mm m-46 field guns
nashorn hornisse
gun 130mm m46
Artillery 130mm view
130mm m46 gun
130 mm оръдие
cañon ruso 130mm
130mm m46 russian field gun price
130 m 46
cañon m-46 130 mm
130 mm gun
130 mm gun drill
130mm m46
M1954 artillery
130 mm M46 gun ka images
130 mm M46
130 mm M-46 costs $