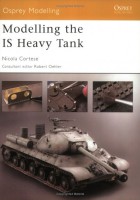 Modelling the IS Heavy Tanks

Redaktör
Osprey Publishing
Serie
Osprey Modellering
Ref

978-1841767574
En bok som undertecknades Osprey Publishing the book «Modelling the IS Heavy Tank – Osprey Modelling» .
Den ÄR (Iosef Stalin) heavy tanks were some of the most widely used AFVs produced by the USSR. First entering combat in 1944, the IS-2 went head-to-head with German tanks such as the Panther, Tiger and King Tiger, and post war IS-2s and IS-3s were exported to China, Cuba and North Korea. This book is packed with easy to follow super-detailing and finishing instructions for building the IS-2, IS-3, and IS-3M variants, as well as for the prototype ISU-152, and features kits from manufacturers such as Dragon, Tamiya, and Fujimi. Advanced scratch-building techniques and working with photo-etched and other after-market accessories in 1/35 and 1/76 scales are covered, making this highly accessible book a welcome addition to any modeller's library..
Denna bok kommer att undersöka rötterna till denna produktiva tank familj, som börjar med den Sovjetiska Arméns första försök att ersätta den legendariska T-34 under andra Världskriget, och som omfattar T-43 och T-44, mer framgångsrika T-54 och sin ultimata utvecklingen i T-55.
Wait, Searching Osprey Modelling for you…
Wait, Searching IS Heavy Tank for you…
Du kan också se :
Find items about "Osprey Modelling" on AliExpress:
Visningar : 534
Hitta genom att:
Modelling the Is Heavy Tank
モデルパワー 1/150 V-22
orlovec říční
modelowanie czołgów
моделювання танків
моделирование ис-3
オスプレイ 1/150
tezke tankove pluky
オスプレイ出版 モデリング
tanque t 44 sovietico
T 34-es modellezés
schwimmwagen type k2s frog 1015
osprey modelling
osprey mk2
osprey libros de modelado
orlovec
modelování tanků
modelling IS-2 tank
modelado de tanque
libros de modelado osprey