Ref

80020

Vrsta
Tovor Tovornjak
Lestvica
1/32
Temo

German 3 ton Cargo Truck
Novica 2012 blagovne znamke Sile Valor komplet : Nemški 3-tonski Tovor Tovornjak – Sile Valor 80020.
-Constructed of both die cast metal and plastic. -Hood and cab are metal. -Rubber wheels. -Rotating wheels. -Includes a driver and four soldiers. -Accurate markings and insignia. -Comes with assorted accessories. -New packaging for 2012 no ties or screws, double blister construction.
Wait, Searching Forces of Valor 80020 for you…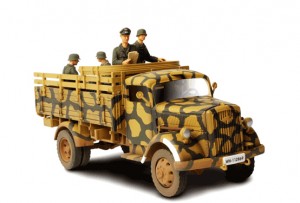 Wait, Searching Forces of Valor for you…
Vidite lahko tudi :
Find items about "Opel Blitz" on AliExpresS :
Ogledov : 292
Iskanje z:
1/32 forces of valor german 3 ton cargo truck
forces of valor 80020
немецкий грузовик опель блиц