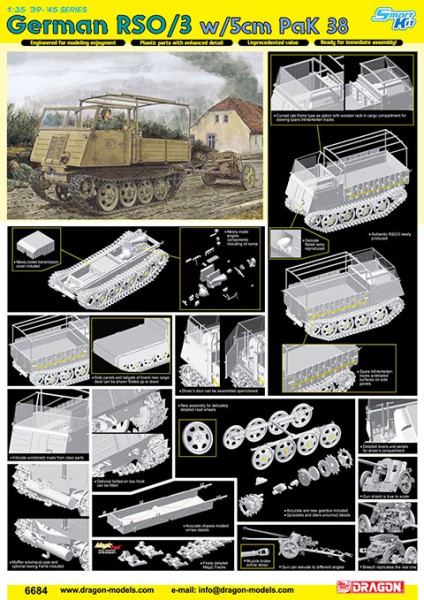 Ref

6684

Vrsta
Model lestvice
lestvica
1/35
Opis

German RSO/3 w/5cm PaK 38
Komplet znamke Dragon Models komplet: "German RSO/3 w/5cm PaK 38".
Dragon has followed up its earlier RSO kit mounting a PaK 40 gun with a 1/35 scale kit of the RSO/03. The only elements borrowed from the earlier kit are the chassis and running gear. Other parts such as the distinctive cab and cargo bed are completely new toolings in keeping with the redesigned RSO/03. Brand new, too, is the Deutz engine. To add to the appeal of this sharply detailed kit, it comes with Dragon's acclaimed 5cm PaK 38 antitank cannon. This set thus creates a duo that was commonly seen on battlefields on the Eastern Front as antitank weapons and supplies were ferried to the places they were needed most. For an instant diorama in a muddy and snowy scene, this kit offers the perfect combination of pulling power and firepower!
Vir: Dragon Models
Wait, Searching DML 6684 for you…

Poiščite komplete na eBayu:
Iskanje na eBayu
Poiščite, kar potrebujete, predlagamo to, vendar ste vi tisti, ki se odločite
Find items about "military tractor" on AliExpresS (c):
Prav tako si lahko ogledate:
Povezani kompleti:
Views : 717