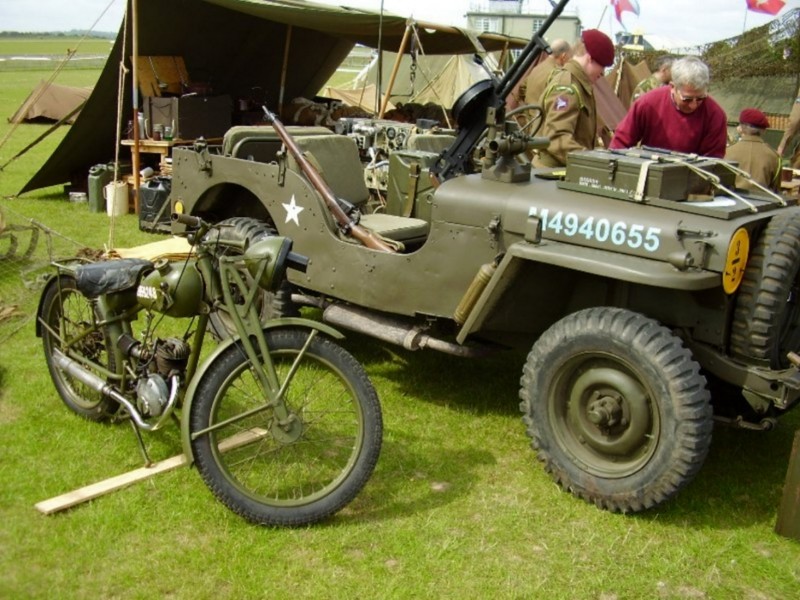 Royal Enfield motorcycles war

Country
UK
Type
Motorcycles war
Period
ww2
Topic

Album of

11

photos of a moto Royal Enfield
During World War II, The Enfield Cycle Company was called upon by the British authorities to develop and manufacture military motorcycles. The models produced for the military were the WD/C 350 cc sidevalve, WD/CO 350 cc OHV, WD/D 250 cc SV, WD/G 350 cc OHV and WD/L 570 cc SV. One of the most well-known Enfields was the Royal Enfield WD/RE, known as the Flying Flea, a lightweight 125 cc motorcycle designed to be dropped by parachute with airborne troops.[2] In order to establish a facility not vulnerable to the wartime bombing of the Midlands, an underground factory was set up, starting in 1942, in a disused "Bath Stone" quarry at Westwood, near Bradford-on-Avon, Wiltshire. Many staff were transferred from Redditch and an estate of "prefabs" was built in Westwood to house them.
Source: Wikipedia
Wait, Searching Royal Enfield motorcycles war for you…

Related kits:
Find kits on eBay:
Search on eBay
Search for what you need, We suggest this but it is you who decide
You can see also :
Views : 1937