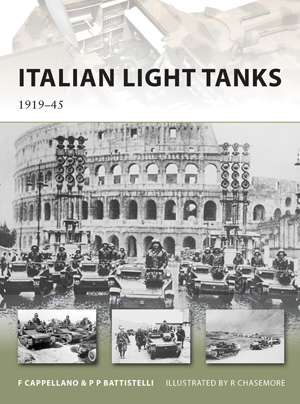 Osprey Publishing

Ref

New Vanguard 191

ISBN
9781849087773
Author
Pier Paolo Battistelli Filippo Cappellano
Illustrator
Richard Chasemore
The Italian army, unlike those of the British and French, did not use tanks in combat during World War I and, by November 1918, only one training unit equipped with French Schneider and Renault tanks had been formed. Consequently, during the 1920s the Italian army had just one single tank type in its armoured inventory – the Fiat 3000. Only in 1927 was the first tank unit formed as a branch of the infantry and not as an independent organization, while the cavalry rejected the idea of both tanks and armoured cars and decided to stand by the use of horses for its mounted units. Between 1933 and March 1939, a further 2,724 CV 33 / L 3 tanks were built, 1,216 of which were exported all over the world. By the time Italy entered the war in June 1940, the army had 1,284 light tanks, 855 of which were in combat units, including three armoured divisions. Variants of the CV 33 / L 3 tanks included flame-throwers, bridge-layers, recovery vehicles, and a radio command tank. Some L 3 tanks were still in use in 1945, by both the Germans and the German-allied Italian units of the Repubblica Sociale.
Source: Osprey Publishing
Wait, Searching NEW VANGUARD 191 for you…

Find kits on eBay:
Search on eBay

Search for what you need, We suggest this but it is you who decide

[ae_affiliate_byphil keyword="Light Tanks"] ...
Related kits:
Views : 692