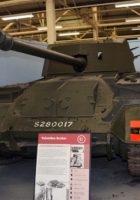 Valentine Archer

Land
STORBRITANNIA
Rolle
Selvgående artilleri anti-tank pistol
Produsert

March 1943 – May 1945

Bygget

655
The Self Propelled 17pdr, Valentine, Mk I, Archer was a British self propelled anti-tank gun of the Second World War based on the Valentine infantry tank chassis fitted with an Ordnance QF 17 pounder gun. Designed and manufactured by Vickers-Armstrongs, 655 were produced between March 1943 and May 1945. It was used in North-West Europe and Italy during the war; post-war, it served with the Egyptian Army. The vehicle was unique as its gun was mounted facing the rear of the chassis instead of the front.
Wait, Searching Valentine Archer for you…

Valentine Archer Gå Rundt
Fotograf
Darren Baker
Lokalisering
Ukjent
Bilder

38
Wait, Searching Valentine Archer for you…

Related kits:
Find kits on eBay:
Søk på eBay
Search for what you need, We suggest this but it is you who decide
Du kan se også :
Du kan kommentere her :
Valentine Archer – Gå Rundt fra r/NetMaquettes
Views : 649