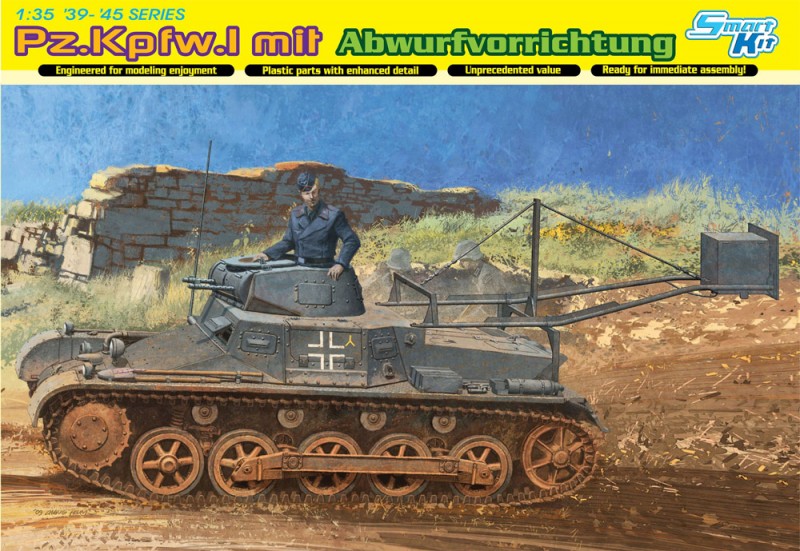 Ref

6480

Tipo
1/35 Segunda Guerra Mundial Militar
Escala
1/35
Tema

Pz.Kpfw.I mit Abwurfvorrichtung
Un modelo de la marca Modelos Dragon el kit : Pz.Kpfw.I mit Abwurfvorrichtung – DML 6480
Newly designed Pz.Kpfw.I mit Abwurfvorrichtung / Intricate spring molded on the bottom of Abwurfvorrichtung New Abwurfvorrichtung represented / Cover of Abwurfvorrichtung can be assembled open/closed Upper hull w/authentic / Idler wheels w/accurate detail Road wheels w/photo-etched rings / Suspension system realistically represented Side fenders w/detailed tread pattern / Lower hull formed from multiple parts for greater detail Accurately modeled glacis plate w/removable transmission inspection cover and accurate bolt detail Fighting-compartment access hatch can be assembled open/closed / Turret roof hatch can be assembled open/closed Gun assembly is movable / Multi-directional slide-molded turret w/accurate bolt detail Suspension w/coil spring in fine detail / Air-intake grill reproduced like the real one Engine deck exquisitely detailed / Engine hatches can be assembled open/closed Driver's vision port cover can be assembled open/closed / Turret vision port cover can be assembled open/closed On-vehicle tools w/molded-on clasps / Magic Tracks w/accurate detail
As Germany attempted to rearm in the 1930s in the lead-up to WWII, the military leadership relied heavily on the Pz.Kpfw.I. Some 1,493 examples of all types were built and these light tanks served in early campaigns even though they were supposed to be just training platforms. Mass production of the Ausf.A commenced in 1934, while the improved Ausf.B with a different engine appeared in August 1935. The Ausf.B was lengthened and it had five road wheels per side. The Panzer I was thinly armored with just 13mm steel at its thickest point. It operated with a crew of two – the commander/gunner and driver. An unusual version of this small tank was the Abwurfvorrichtung, literally a Demolition Charge Layer. These modified tanks were typically found in the panzer-pionier-bataillon of panzer divisions in 1940 in time for the campaign in Western Europe. The conversion comprised a device mounted on the rear deck that could lower a 50kg explosive charge onto or against a field fortification before it was then detonated.
Fuente: Dragón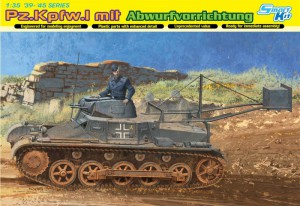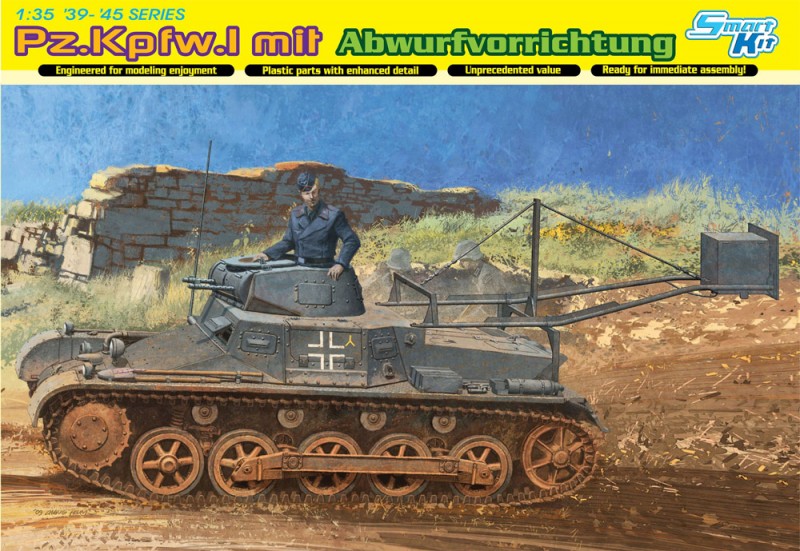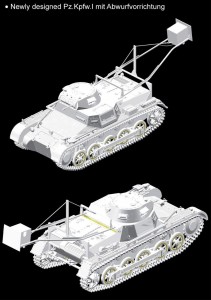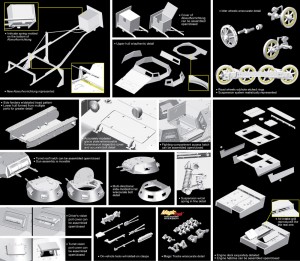 Wait, Searching DML 6480 for you…

Encuentra kits en eBay:
Buscar en eBay

Busque lo que necesita, Le sugerimos esto, pero son ustedes los que deciden

...
Kits relacionados:
Vistas : 964