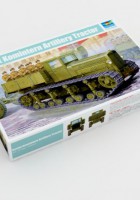 Ref
05540
Thema
Modelle
Skala
1/35
Thema

Soviet Komintern Artillery Tractor
Ein Modell der Marke Trumpeter das kit: Soviet Komintern Artillery Tractor – Trumpeter 05540.
Features : The kit consists of over 330 parts -the kit w/refined detail -multi-slide moulded cabin and lower hull -135 individual tracks links
Die Komintern Artillerie Zugmaschine basiert auf dem Fahrwerk des T-12 Panzer-und später die T-24 (2.000 baute 1935 bis 1941), angetrieben von einem 131-PS-diesel. Trotz der düsteren Schicksal seiner Vorgänger Panzer, der Traktor war erfolgreicher und wurde in die Massenproduktion. Natürlich, die Komintern geerbt einige der T-24 - Nachteile, aber einige von Ihnen waren Feste, die von Designern entworfen, andere wurden nicht als bedeutend für Traktor als für einen tank. Die Komintern wurde verwendet, um zu schleppen-mittlere Artillerie wie die ML20 152-mm-Kanone-Haubitze.
Warten Sie, Suchen Trumpeter 05540 für Sie...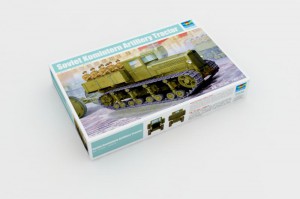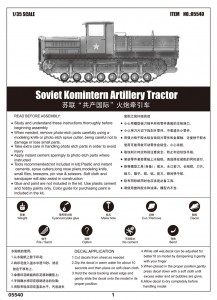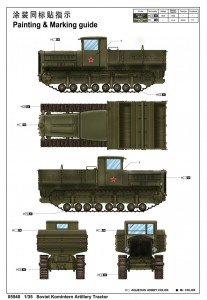 Warten Sie, Suche Komintern Artillerie Zugmaschine für Sie...
You can see also :
Find items about "Artillery Tractor" on AliExpress (c):
Ansichten : 677
Find by:
sovětský dělostřelecký tahač
komintern artillery tractor
sowjetische traktoren
artillery tractors ソ連
тягач коминтерн модель
ya-12 artillery tractor sovietco
tahače dělostřelectva
szovjet vontato
towing tractor for komet
soviet artillery ww2
soviet artillery tractors
soviet artillery tractor ww2
recherche tracteur de marque soviet
obice ml20
komintern tractor walk around
komintern tractor
dělostřelecký tahač ya-12
dělostřelecký tahač
ats-59g tractor
Artillery Tractor Caterpillar