M47 Patton

Land
USA
Rolle
Main Battle Tank
Im service
1952–Anfang der 1960er Jahre
Gebaut
8576
Die M47 Patton was an American main battle tank, a development of the M46 Patton mounting an updated turret, and was in turn further developed as the M48 Patton. It was the second American tank to be named after General George S. Patton, commander of the U.S. Third Army during World War II and one of the earliest American advocates of tanks in battle. The M47 was the U.S. Army's and Marine Corps' primary tank, intended to replace the M46 Patton and M4 Sherman medium tanks. The M47 was widely used by U.S. Cold War allies, both SEATO and NATO countries, and was the only Patton series tank that never saw combat while in US service.
Quelle: M47 Patton auf Wikipedia
M47 Patton
Fotograf
Unknow
Lokalisierung
Unknow
Fotos
187
Warten Sie, Suche M47 Patton Fotos für Sie...

Verwandte kits: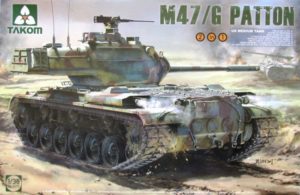 M47/G Patton
Takom
2070
1:35
Full kit
Clic für die Suche
M47 Patton Tank Walk Around
Fotograf
Bill Maloney
Lokalisierung
Unknow
Fotos
19
Finden kits auf eBay:
Suche auf eBay
Suche für das, was Sie benötigen, Wir empfehlen dies, aber es ist Ihr, die entscheiden
Sie können siehe auch :
M47 Patton Walk Around
Fotograf
Vladimir Yakubov
Lokalisierung
Jacques Littlefield Collection
Fotos
127
Aufrufe : 2948