M47 Patton

Riik
USA
Roll

Main Battle Tank

Teenus

1952–early 1960s

Ehitatud

8576
Euroopa M47 Patton was an American main battle tank, a development of the M46 Patton mounting an updated turret, and was in turn further developed as the M48 Patton. It was the second American tank to be named after General George S. Patton, commander of the U.S. Third Army during World War II and one of the earliest American advocates of tanks in battle. The M47 was the U.S. Army's and Marine Corps' primary tank, intended to replace the M46 Patton and M4 Sherman medium tanks. The M47 was widely used by U.S. Cold War allies, both SEATO and NATO countries, and was the only Patton series tank that never saw combat while in US service.
Allikas: M47 Patton on Wikipedia
M47 Patton
Fotograaf
Unknow
Lokaliseerimine
Unknow
Fotod

187
Oodake, Otsides M47 Patton fotod teie jaoks...

Oodake, Otsides M47 Patton teile...

Seotud komplektid: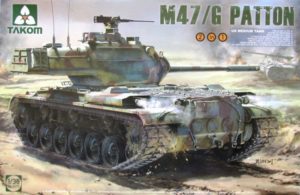 Clic Otsing
M47 Patton Tank Walk Around
Fotograaf
Bill Maloney
Lokaliseerimine
Unknow
Fotod

19
Leia komplektid kohta eBay:
Otsi eBay
Otsida, mida sa vajad, soovitame kuid see on teile, kes otsustab
Näete ka :
M47 Patton Walk Around
Fotograaf
Vladimir Yakubov
Lokaliseerimine
Jacques Littlefield Kogumine
Fotod

127
You can comment here :
M47 Patton – WalkAround

alates NetMaquettes
Views : 2646