M47 Patton

Land
Verenigde staten
Rol
Main Battle Tank
In dienst

1952–early 1960s

Gebouwd

8576
De M47 Patton was an American main battle tank, a development of the M46 Patton mounting an updated turret, and was in turn further developed as the M48 Patton. It was the second American tank to be named after General George S. Patton, commander of the U.S. Third Army during World War II and one of the earliest American advocates of tanks in battle. The M47 was the U.S. Army's and Marine Corps' primary tank, intended to replace the M46 Patton and M4 Sherman medium tanks. The M47 was widely used by U.S. Cold War allies, both SEATO and NATO countries, and was the only Patton series tank that never saw combat while in US service.
Bron: M47 Patton op Wikipedia
M47 Patton
Fotograaf
Onbekend
Coördinaten
Onbekend
Foto ' s
187
Wacht, Zoeken M47 Patton foto ' s voor je...

Wacht, Zoeken M47 Patton voor u...

Verwante kits: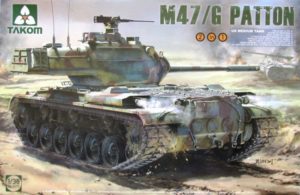 M47/G Patton
Takom
1:35
Volledige kit
Clic voor Zoeken
M47 Patton Tank Walk Around
Fotograaf
Bill Maloney
Coördinaten
Onbekend
Foto ' s
Negentien
Pakketten vinden op eBay:
Zoeken op eBay
Zoeken naar wat je nodig hebt, raden We dit maar het is u die besluiten
Je kunt ook zien :
M47 Patton Walk Around
Fotograaf
Vladimir Yakubov
Coördinaten
Jacques Littlefield Collectie
Foto ' s
127
U kunt hier commentaar :
M47 Patton – WalkAround van NetMaquettes
Uitzicht : 2585
Te vinden door:
М47戦車
m47 patton walkaround
Modelle m 47 Patton
m47 Tank
m47 patton walk around
tank patton m47 walk around
m-47Tank Walk Around
m48 patton walkaround
www m47 tank com
высчитать приведённую броню танка
м47 паттон
modellbau 1/35 m-47 patton
m47patton walkaround
m47 walkaround
m47 tank walk around
m47 jordan
m 47 patton tank walk around
imafenes m47 paton
De Hailland MkIV Mosquito walk around
1/35 m47