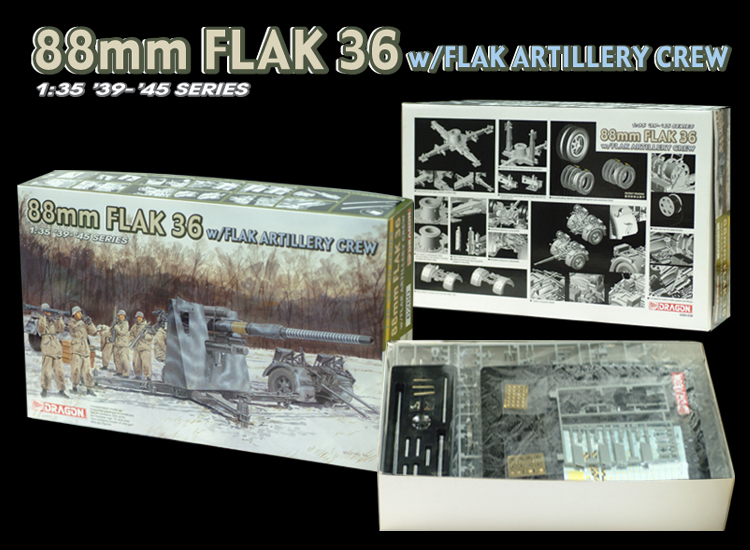 Ref
6260
Geben
Scale-Modell
Skala
1/35
Thema

88mm FLAK 36 w/FLAK ARTILLERIE CREW
Ein kit der Marke Dragon Models das kit : A88mm FLAK 36 w/FLAK ARTILLERIE CREW – DML-6260.
1/35 88mm Flak 36 w/Flak Artillery Crew and BONUS features This release is destined to be a legend! The eighty-eight is probably the most well known artillery piece of WWII. After painstaking research, this ALL-NEW kit greatly surpasses the detail of kits on the market today and is loaded with extra features. Features: – ALL NEW tooling Cradle and Shield – Two kinds of gun cradles, each with full internal details – Exquisitely detailed traverse wheels – Handles on the gun crew seat can be assembled in either operational or transportation mode – Detailed fuse setter – Detachable gun shield (depending on which gun mount is used) – Slide molded one-piece shield with exquisite detail on both faces – Shield is molded to correct scale thickness – Armored viewing cover can be open/closed Traversing pedestal and cruciform legs – Fully detailed gun mount (unsurpassed detail) – Full detail on all surfaces, including turntable and bottom plate – Fully functional and highly detailed cruciform legs – Right/left legs can be folded up for transportation – Stabilising jack assemblies can be height adjusted for uneven ground – Slide-molded securing spikes – Additional half-length securing spikes suitable for dioramas Trailer – Fully detailed trailer – Slide molded one-piece front and rear trailer units – Individual suspension components – Full detail for trailers brake system and fittings – Cable reel has full detail w/ cable – Workable towing bar is detachable – Groundbreaking injection molded multi-layered tires w/extreme detail Bonus – 6 man gun crew w/range finder – Metal recuperator – Aluminum barrel for Type 18 barrel – Aluminum barrel for Type 36 barrel (two separate parts) – Brass ammo x 3 types – Ammo box x 2 types (wooden and wicker) – Photo-etched parts – Cartograf decals for the camouflage paint scheme on gun shield – Cartograf decals for various divisional markings – Metal chains – Stunning box art by Mr. Ron Volstad
Quelle: DML-6260-sur-Dragon-Modelle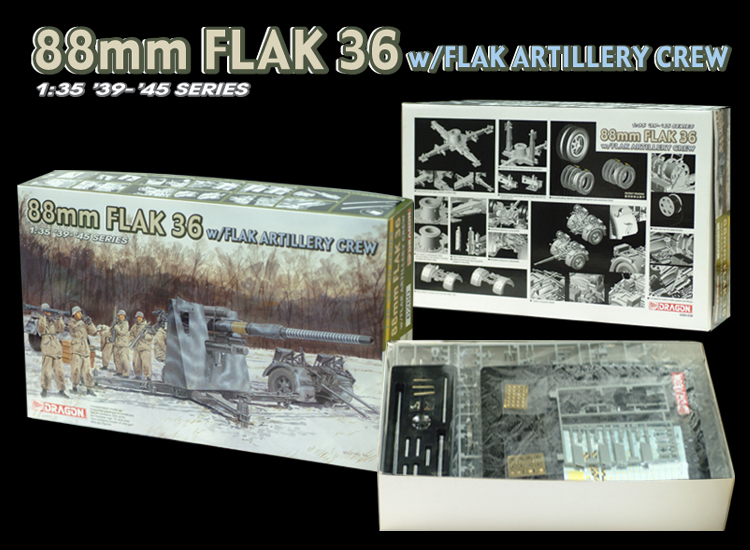 Warten Sie, Suche DML-6260 für Sie...

Finden kits auf eBay:
Suche auf eBay
Suche für das, was Sie benötigen, Wir empfehlen dies, aber es ist Ihr, die entscheiden
Find items about "Artillery Flak" on AliExpresS :
Sie können siehe auch :
Verwandte kits:
Aufrufe : 1138