Profile Publications

Série
AFV Waffen
Titel
M103 Heavy Tank
Ref
41
Beschreibung

Zeitschrift auf den wagen "M103 Heavy Tank – M41 Light Tank"
– The M103 heavy tank served the United States Army and the US-Marines during the Cold War. Until the development of the M1A1 in the mid-1980s, it was the heaviest and most heavily-armed tank in US-service. The M103 was manufactured at the Detroit Arsenal Tank Plant and the first units were accepted in 1957.
– Der char M41 Walker Bulldog est un char de combat léger américain, qui a été conçu pour remplacer le char M24 Chaffee. Sa production a commencé en 1951 et il servit aussitôt durant la guerre de Corée. Il fut exporté dans plusieurs pays et combattit aussi bien durant la guerre du Vietnam qu'en Somalie.
Quelle: M103 heavy tank-sur Wikipedia

Quelle: M41 sur Wikipedia
Warten Sie, Suche AFV Weapons 41 für Sie...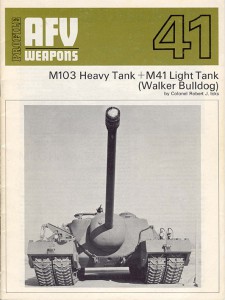 Warten Sie, Suche M103 Heavy Tank für Sie...
You can see also :
Find items about "Heavy Tank" on AliExpress:
Ansichten : 366
Find by:
m103 1/35
m 103 carro armato
char m103
tank m103
tanque char m41
ebay- 1/72 m 6 heavy tank
fotos del tanque pesado e-100
google model kit m18 helcat
jogos de armas de m41
letecká společnost AFV
Long Tom AFV
ebay tank somua 35 s
dragon 1/35 m103 tank
char m103 vietnam
char m103 au vietnam
戦車 m103 1/72
books on the m103 tank
australský tank
arme m103
afvクラブ m41