AFV Club

Ref
Fünf und dreißig tausend eins hundert zwei und achtzig
Geben
Modell
Skala
1/35
Thema

105mm Howitzer M2A1 & Carriage M2A2
Ein Modell der Marke AFV Club das kit: 105mm Howitzer M2A1 & Carriage M2A2 – AFV Club 35182.
AUTHENTICALLY REPRODUCED M2A1 105mm HOWITZER IN LATE WWII SERVICES. -NEW TOOLING REALISTIC REPLICATED STRUCTURE OF M2A2 CARRIAGE. -HIGH-TECH PLASTIC INJECTION MOULDING EQUILIBRATOR SPRING IS MOVABLE ALONG WITH THE BARREL. -INTEGRATED 1-PIECE CRADLE, HIGHLY DETAILED RECOIL CYLINDER AND REALLY WORKABLE RECOIL MECHANISM. -RUBBER MADE WHEELS WITH ROAD PATTERN TYRES OF LATE WWII VERSION. -NEW TOOLING MODIFIED TWO-LAYER SHIELD REPLICATED IN REALISTIC THICKNESS, WHICH CAN BE BUILT IN VARIOUS SETTING. -SHIELD, TRAILS AND LUNETTE CAN BE POSED IN FIRING OR TRAVEL MODE. THE KIT PROVIDES SEVERAL TYPES OF PINTLES FOR VEHICLE HAULING. -METAL GUN BARREL WITH RIFLING.. -PRECISION PHOTO-ETCHED PARTS INCLUDED.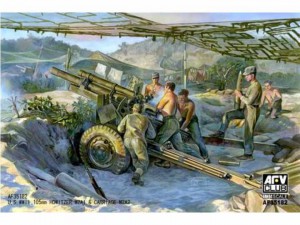 Warten Sie, Suche AFV Club 35182 für Sie...

Finden kits auf eBay:
Suche auf eBay
Suche für das, was Sie benötigen, Wir empfehlen dies, aber es ist Ihr, die entscheiden
Find items about "Howitzer" on AliExpresS (c):
Sie können siehe auch :
Verwandte kits:
Views : 1276