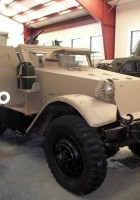 M5 Centaur

Land
USA
Type
Centaur
Foto
Vladimir Yakubov
Beskrivelse
Album

159

fotos walk-around af en "M5 Centaur"
Foto galleri af en M5 Centaur, The M5 Half-track (officially the Carrier, Personnel Half-track M5) was an American armored personnel carrier in use during World War II. It was developed in 1942 when existing manufacturers of the M2 Half Track Car, and M3 Half-track could not keep up with production demand. International Harvester (IH) had capacity to produce a similar vehicle to the M3 but some differences from it had to be accepted.[clarification needed] The M5 was produced by IH from December 1942 to October 1943.
Kilde: M5 Centaur på Wikipedia
Vent, Søger M5 Centaur billeder til dig...
Vent, Søger M5 Centaur for dig...
Service historie
In service : 1943–67 Wars : -World War II -1948 Arab-Israeli war -Suez Crisis -Six-Day War
Produktion historie
Designer :Ordnance Department Designed : 1942 Manufacturer : International Harvester Produced : 1942–43 Number built : 7484
Specifikationer
Weight : 9.8t Length : 6.3m Width : 2.23m Height : 2.74m Crew : 3+10troops Armor : 79–15.8mm Main armament : -1 × 0.5 in (13 mm) M2 machine gun Secondary armament : -2 × 0.3 in (7.6 mm) M1919 machine gun Operational range : 201km Speed : 68km/h
Relaterede kits:
Finde kits på eBay:
Søg på eBay
Søg efter hvad du har brug for, Vi foreslår dette, men det er dig der bestemmer
Du kan også se :
Views : 1990
At finde ud af:
Autochenille de guerre en lego
m5 halftrack
1/35 scale israeli halftracks
lego halftrack suspension
M5 Half Track Walk Around