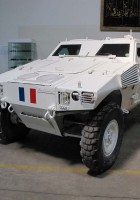 Panhard VBR

Landet
Fance
Typ
VBR
Fotografi
Vladimir Yakubov
Hitta
Musee des Blindes, Saumur
Beskrivning
Album

92

foton walk-around "Panhard VBR"
Fotogalleri från en Panhard VBR,
The Panhard Véhicule Blindé Léger ("Light armoured vehicle"), also known by its acronym Panhard VBL or simply VBL, is a wheeled 4×4 all-terrain vehicle built by Panhard. The vehicle is offered in various configurations, and was designed to combine the agility of the Peugeot VLTT liaison vehicle with adequate protection against small arms fire, artillery fragments, mines and NBC weapons.
VBR: enlarged VBL multipurpose armored vehicle.
Källa: Panhard VBR på Wikipedia
Wait, Searching Panhard VBR photos for you…
Wait, Searching Panhard VBR for you…
Specifikationer
Vikt

3.5 to 4 tonnes

Längd

3,80m

Bredd

2,02m

Höjd

1,70m

Besättning

2-3
Find items about "Panhard" on AliExpress (c):
Visningar : 135
Hitta genom att: