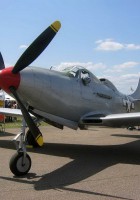 Bell P-63 KingCobra

Landet
USA
Roll
Stridsflygplan
Första flygningen
7 December 1942
Byggt

3303
Den Bell P-63 Kingcobra is an American fighter aircraft developed by Bell Aircraft in World War II from the Bell P-39 Airacobra in an attempt to correct that aircraft's deficiencies. Although the P-63 was not accepted for combat use by the United States Army Air Forces, it was adopted by the Soviet Air Force.
Vänta, Söker P-63 King Cobra bilder för dig...
P-63 King Cobra
Fotograf
Unknow
Läge
Unknow
Foton
42
Vänta, Söker P-63 King Cobra för dig...
P-63A-7 Kingcobra
Fotograf
Cees Hendriks
Läge
Unknow
Foton
23
Du kan också se :
Find items about "Fighter aircraft" on AliExpresS (c):
Visningar : 1369
Hitta genom att:
p-63 king cobra
p-63 walk around
p-63e
p63 kingcobra 1/48 scale airacer
P-63キングコブラ
КІНКОБРА ЛІТАК
bell p63 king cobra
P-63 king cobra walk around
p-63 キングコブラ
p-63キングコブラ パーツ
paper modelers
p63キング
P63 King Cobra
P-63 KINFGCOBRA AND ARMEE DE LAIR
zdjęcia P-63
p-63walkaround
mpm p-63
1/48 MPM P-63C
mpm kingcobra 1/72
P-63キングコブラ