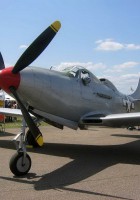 Bell P-63 KingCobra

Riik
USA
Roll
Hävituslennukid
Esimese lennu
7 detsember 1942
Ehitatud

3303
Euroopa Bell P-63 Kingcobra is an American fighter aircraft developed by Bell Aircraft in World War II from the Bell P-39 Airacobra in an attempt to correct that aircraft's deficiencies. Although the P-63 was not accepted for combat use by the United States Army Air Forces, it was adopted by the Soviet Air Force.
Allikas: Bell P-63 KingCobra Wikipedia
Oodake, Otsides, P-63 King Cobra pilte teie...

P-63 King Cobra
Fotograaf
Unknow
Lokaliseerimine
Unknow
Fotod
42
Oodake, Otsides, P-63 King Cobra teile...

P-63A-7 Kingcobra
Fotograaf
Cees Hendriks
Lokaliseerimine
Unknow
Fotod
23
Seotud komplektid:
Leia komplektid kohta eBay:
Otsi eBay
Otsida, mida sa vajad, soovitame kuid see on teile, kes otsustab
Näete ka :
Bell P-63E Kingcobra Walk Around
Fotograaf
Vladimir Yakubov
Lokaliseerimine
National Museum USAF
Fotod
63
Saate kommentaar :
P-63 King Cobra – WalkAround alates u/PhilTheNet
Vaatamisi : 2184
Leida:
p-63 king cobra
p-63 walk around
p-63e
p63 kingcobra 1/48 scale airacer
P-63キングコブラ
КІНКОБРА ЛІТАК
bell p63 king cobra
P-63 king cobra walk around
p-63 キングコブラ
p-63キングコブラ パーツ
paper modelers
p63キング
P63 King Cobra
P-63 KINFGCOBRA AND ARMEE DE LAIR
zdjęcia P-63
p-63walkaround
mpm p-63
1/48 MPM P-63C
mpm kingcobra 1/72
P-63キングコブラ