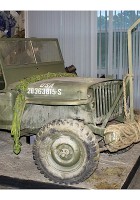 Willys MB

Država
ZDA
Vlogo

1/4 ton 4×4 utility truck

Proizvajalci

Willys-Overland (MB) – Ford (GPW)

Zgrajena

MB: 359489 – GPW: 277896
V Willys MB and the Ford GPW, both formally called the U.S. Army Truck, 1/4 ton, 4×4, and commonly known as Jeep or jeep, are four-wheel drive military utility vehicles that were manufactured during World War II (from 1941 to 1945) to help mobilize the Allied forces. The World War II jeep became the first 4-wheel drive car to be manufactured in six-figure numbers. After the war, it evolved into the civilian Jeep CJ models, and inspired both an entire category of recreational 4WDs and several generations of military light utility vehicles.
Vir: Jeep Willys MB na Wikipediji
Počakajte, Iskanje Jeep Willys MB za fotografije za vas...
Jeep Willys MB
Fotograf
Neznani
Lokalizacija
Neznani
Fotografije
99
Počakajte, Iskanje Jeep Willys MB za vas...
Willys MB NAS Vojsko Džip Sprehod Okoli
Fotograf
Eugeny Ivanov
Lokalizacija
Neznani
Fotografije
41
Vidite lahko tudi :
Jeep Willys MB WalkAround
Fotograf
Vladimir Yakubov
Lokalizacija

U.S. Navy Seabee Museum

Fotografije
51
Povezani sklopi:
Willys MB Jeep s Priklopnikom Avstralski Sile Insignias
Italeri
1:35
Celoten komplet
Clic za Iskanje
Našli kompleti na eBay:
Iskanje na eBay
Iskati tisto, kar potrebujete, priporočamo, da to, vendar to je vas, ki se odločijo,
Ogledov : 1333
Iskanje z:
jeep mb
виллис мб форд гпв 1945 г
willys mb
jeep willys vendita
ウイリスmb
Виллис МБ Форд ГПВ 1945г
ウィリスMBジープ
ウイリスmb フォードgpw
ウィリス ジープ
ウィリス MB
ВИЛЛИС МБ ФОРД ГПВ 1941-1945г КУПЛЮ
Jeep willys walkarround radiador
wwii willys mb jeep
m38 jeep walk around
ウィリスMBジープ 第二次世界大戦
jeep willys dokumentace
ウィリスジープ各部
ウィリス ジープ
military jeep
ww2 cj3a jeep