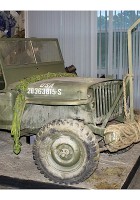 Jeep Willys MB

Country
USA
Type

All-terrain vehicle
La Jeep Willys MB est un véhicule tout-terrain léger conçu en 1940 et sorti d'usine en 1943 sur un cahier des charges de l'armée américaine. La Willys MB is almost identical to the Ford GPW, and has been manufactured in the year 1941 up to the year 1945. The u.s. army called this type of vehicles " GP "for an abbreviation of" General Purpose " (" purpose-general " in French). They are considered as one of the emblems of the Second world War.
Source: Jeep Willys MB on Wikipedia
Wait, Searching Jeep Willys MB photos for you...
Jeep Willys MB
Photographer
Unknow
Location
Unknow
Photos
99
Wait, Searching Jeep Willys MB for you...
Willys MB US Army Jeep Walk Around
Photographer
Eugeny Ivanov
Location
Unknow
Photos
41
Jeep Willys MB WalkAround
Photographer
Vladimir Yakubov
Location
U.S. Navy Seabee Museum
Photos
51
Find items about "Jeep Willys" on AliExpress (c):
Find by:
jeep mb
виллис мб форд гпв 1945 г
willys mb
jeep willys vendita
ウイリスmb
Виллис МБ Форд ГПВ 1945г
ウィリスMBジープ
ウイリスmb フォードgpw
ウィリス ジープ
ウィリス MB
ВИЛЛИС МБ ФОРД ГПВ 1941-1945г КУПЛЮ
Jeep willys walkarround radiador
wwii willys mb jeep
m38 jeep walk around
ウィリスMBジープ 第二次世界大戦
jeep willys dokumentace
ウィリスジープ各部
ウィリス ジープ
military jeep
ww2 cj3a jeep