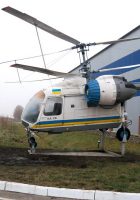 Kamov Ka-26

Country
Soviet Union
Type
Light utility helicopter
Period
1969-1985
Built
816
The Kamov Ka-26 (NATO reporting name Hoodlum) is a Soviet light utility helicopter with co-axial rotors.
The Ka-26 entered production in 1969. 816 have been built. A variant with a single turboshaft engine was the Ka-126. A twin turboshaft-powered version is the Ka-226. (All the Ka-26/126/128/226 variants are codenamed "Hoodlum").
Source: Kamov Ka-26 on Wiki
Wait, Searching Kamov Ka-26 photos for you…
Kamov Ka-26 Walk Around
Photographer
Unknow
Localisation
Unknow
Photos
22
Wait, Searching Kamov Ka-26 for you…
Views : 138
Find by: