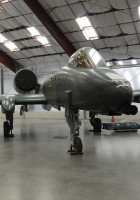 Fairchild Republikk A-10 Thunderbolt II

Land
Usa
Type
Jagerfly
Første flight

10 May 1972

Bygget

716
Bildegalleri av en Fairchild Republikk A-10 Thunderbolt II,
The Fairchild Republic A-10 Thunderbolt II is a single seat, twin-engine, straight wing jet aircraft developed by Fairchild-Republic for the United States Air Force. Its official name comes from the Republic P-47 Thunderbolt, a fighter particularly effective at close air support. The A-10 is more commonly known by its nicknames "Warthog" or "Hog". The A-10 was designed for close-in support of ground troops, close air support, providing quick-action support for troops against helicopters, vehicles, and ground troops. It entered service in 1976 and is the only production-built aircraft that has served in the USAF that was designed solely for CAS. Its secondary mission is to provide forward air controller – airborne (FAC-A) support, by directing other aircraft in attacks on ground targets. Aircraft used primarily in this role are designated OA-10.
Wait, Searching Fairchild Republic A-10 Thunderbolt II photos for you…
Fairchild Republikk A-10 Thunderbolt II – WalkAround
Fotograf
John Pokker
Beliggenhet
Ukjent
Bilder
33
Wait, Searching Fairchild Republic A-10 Thunderbolt II for you…
Info
Rolle

Fixed-wing close air support, forward air control, and ground-attack aircraft

Produsent
Fairchild Republikk
Første flight

10 May 1972

Innledning

March 1977

Status
I tjeneste
Produsert

1972–84

Antall bygget

716
Fairchild Republic A-10C Thunderbolt II

Fotograf
Ukjent
Beliggenhet
Ukjent
Bilder
79
Find items about "Fairchild Republic" on AliExpress (c):
Views : 841
Søk etter:
a 10 thunderbolt walkaround
A-10 thunderbolt walkaround
A-10A flickr
a10 warthog walkaround
fairchild republic a-10 thunderbolt ii
волкэраунд а10 тандерболт