Réf
3507
Type
Maquette
Echelle
1/35
Description

A model of the light tank Russian BT-5
A scale model of the la marque Zvezda the mock-up: "Soviet Light Tank BT-5".
Designed in the early thirties, the tanks fast BT for Bystrokhodny Tank (Russian Быстроходный танк, bed. Tank Fast), have played a major role in the development of the armored force soviet. They were the first models of tanks available in large numbers which allowed to develop mechanized doctrines. Even if these doctrines were disregarded and forgotten just before the start of the German invasion, they opened the way to those, later, who used the descendent of the BT, the T-34.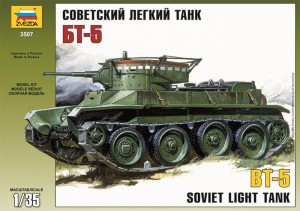 Wait, Searching Zvezda 3507 for you...

Find kits on eBay:
Search on eBay
Search for what you need, We suggest this but it is you who decide
Find items about "Russian Tanks" on AliExpresS :
You can see also :
Related kits:
Views : 631