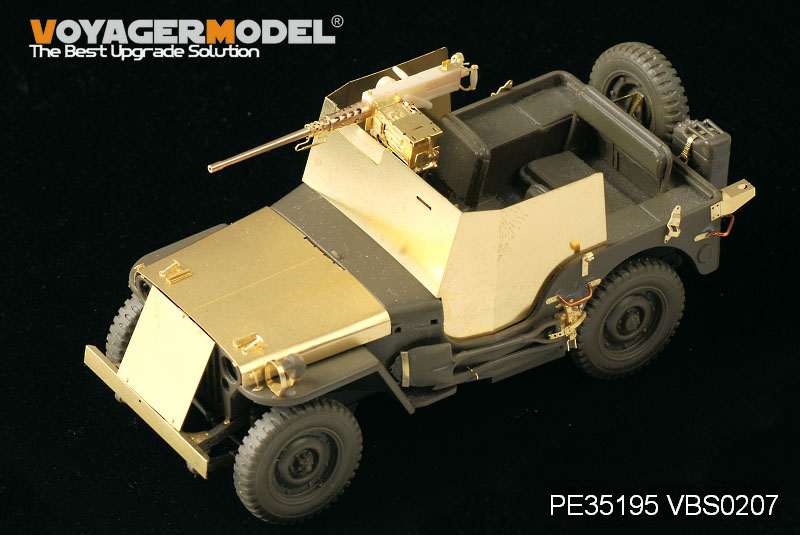 Réf
PE35195
Type
Photo-découpe
Echelle
1/35
Subject

Set U. S. Jeep Willys MB w/Add Amour
For Tamiya 35219
A kit 2011 home Voyager Model the set of photo "U. S. Jeep Willys MB w/Add Amour (For TAMIYA 35219) – VOYAGER MODEL PE35195".
Histoire: La Willys MB est presque identique à la Ford GPW, et a été fabriquée de l'année 1941 jusqu'à l'année 1945. L'armée américaine a appelé ce type de véhicules « GP » pour une abréviation de « General Purpose » (« usage général » en français). Elles sont considérées comme un des emblèmes de la Deuxième Guerre mondiale. Au fil des ans, la Jeep de la seconde guerre mondiale a ensuite évolué en « CJ » pour une abréviation de « Civilian Jeep » (Jeep civile en français) et a été reconnu comme un symbole d'aventure.
Source: Williys on Wikipedia
Wait, Searching VOYAGER MODEL PE35195 for you...

Wait, Searching U.S. Jeep Willys MB for you…

[AFG_gallery lestags='willys']
You can see also :
Find items about "Jeep Willys MB" on AliExpress (c):
Views : 821