Ref
02346
Type
Military Vehicles
Scale
1/35
Topic

Soviet GAZ-67B
A model of the brand Trumpeter the kit: Soviet GAZ-67B – Trumpeter 02346.
The kit consists of over 200 parts : – 1 piece of Photo Etched parts included – Details finely represented by newly tooled parts – Rubber tyres w/fin
The GAZ-67 was a further development of the earlier GAZ-64. A main improvement was a wider track of 1446 mm. It also had a strengthened chassis frame, enlarged fuel tank and other improvements. It was powered by a slightly more powerful 54 hp version of GAZ M1 4-cylinder 3280 cc gasoline motor, and had a top speed of 90 km/h. Production started on 23 September 1943 (the first serial vehicle produced). From January 1944 it was replaced by the GAZ-67B, which had some mechanical improvements.
Source: Trumpeter
Wait, Searching Trumpeter 02346 for you…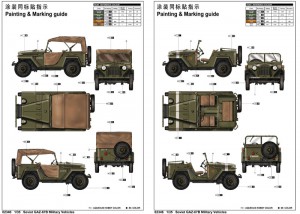 Wait, Searching Gaz-67 for you…
You can see also :
Find items about "Soviet jeep" on AliExpress:
Views : 642
Find by:
www trumpeter-china com
LEGEND LF1235 MRAP
GAZ-67B
gaz 67 trumpeter
gas TRUMPETER
Trumpeter ГАЗ-67Б
trumpeter gaz 67b
trumpeter gaz 67
Trumpeter 1:35 Soviet Gaz-67 B 02346 review
trumpeter #01584
trasporto missile balistico 1/35 trumpeter
tahač ATS-59G
soviet gaz 67
model gaz 67 trumpeter
Трампетер GAZ-67B
díly ke gaz 67
GAZ M1
GAZ 67B Trumpeter
dried45v
gaz 1:35 trrumpeter