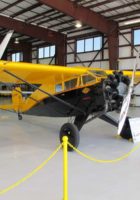 G.A.C. 102 Aristocrat
Landet
USA
Roll
Tre sits touring flygplan
Första flygningen

late July 1928

Byggt
45
Den G.A.C. 102 Aristocrat or General 102 Aristocrat is a single-engined cabin monoplane built in the US just before the Great Depression. It proved popular, with over forty built; an early example was taken on an aerial survey of Antarctica. One survives.
Wait, Searching G.A.C. 102 Aristocrat for you…

Allmänt Flygplan 102-En Aristokrat Gå Runt
Fotograf
Vladimir Yakubov
Läge
Bud Field Aviation
Foton
45
Wait, Searching G.A.C. 102 Aristocrat for you…

Relaterade kit:
Hitta kit på eBay:
Sök på eBay
Sök efter vad du behöver, Vi föreslår detta, men det är du som bestämmer
Du kan också se :
Du kan kommentera här :
G. A. C. 102 Aristokrat – Gå Runt från NetMaquettes
Visningar : 203