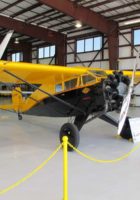 G.A.C. 102 Aristocrat
Paese
USA
Ruolo
Tre posti touring aerei
Primo volo

late July 1928

Costruito
45
Il G.A.C. 102 Aristocrat or General 102 Aristocrat is a single-engined cabin monoplane built in the US just before the Great Depression. It proved popular, with over forty built; an early example was taken on an aerial survey of Antarctica. One survives.
Wait, Searching G.A.C. 102 Aristocrat for you…

Generale Aerei 102-Un Aristocratico Piedi Intorno
Fotografo
Vladimir Yakubov
Localizzazione
Bud Campo Di Aviazione
Foto
45
Wait, Searching G.A.C. 102 Aristocrat for you…

Correlati kit:
Trovare i kit su eBay:
Cerca su eBay
Ricerca di che cosa avete bisogno, Noi suggeriscono questo, ma sta a voi decidere
Si può vedere anche :
Potete commentare qui :
G. A. C. 102 Aristocratico – Camminare Intorno da NetMaquettes
Visualizzazioni : 204