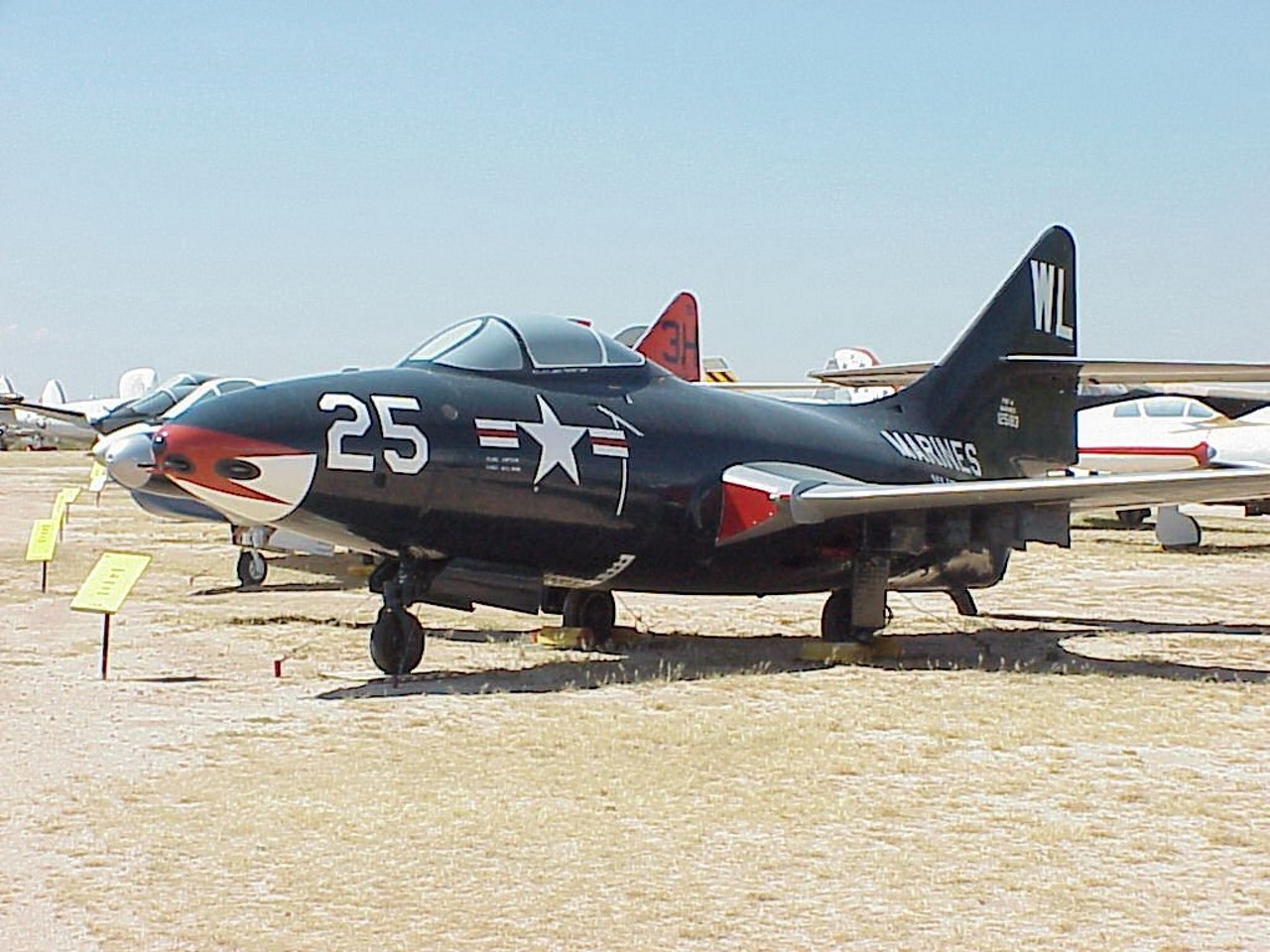 Grumman F9F Panther

Zemlja
Sad
Ulogu
Borac-bombarder
Prvi let

21 November 1947

Izgradio

1382
The Grumman F9F Panther was the manufacturer's first jet fighter and one of the United States Navy's first successful carrier-based jet fighters. A single-engined, straight-winged day fighter, it was armed with four 20 mm (0.79 in) cannon and could carry a wide assortment of air-to-ground munitions. The Panther was used extensively by the U.S. Navy and Marine Corps in the Korean War. It was also the first jet aircraft used by the Blue Angels flight team, used by them from 1949 through late 1954. The aircraft was exported to Argentina and was the first jet used by the Argentine Naval Aviation. Total F9F production was 1,382. The design evolved into the swept wing Grumman F-9 Cougar.
Grumman F9F-2 Panther Walk Around
Fotografi
Cees Hendriks
Lokalizacija
Nepoznato
Fotografije
36
Wait, Searching Grumman F9F Panther for you…

Grumman F9F Panther/Cougar Walk Around
Fotograf
Vladimir Jakubov
Lokalizacija
Nepoznato
Fotografije
66
Srodni kompleti:
Šef hobija
1:72
Kompletan komplet
Clic za pretragu
Clic za pretragu
F9F-4 Panther Walk Around
Fotograf
Michael Benolkin
Lokalizacija
Nepoznato
Fotografije
23
Pronađi komplete na eBay-u:
Pretraga na eBay-u
Tražimo ono što vam treba, predlažemo vam ovo, ali vi ste ti ti koji odlučujete
...
Views : 3688