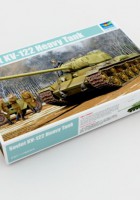 Ref
0

1570

Vrsta
Model komplet
Lestvica
1/35
Temo

Soviet KV-122 Heavy Tank
Model blagovne znamke Trumpeter komplet: Soviet KV-122 Heavy Tank – Trumpeter 01570.
Features : The kit consists of over 440 parts -the kit w/refined detail -multi-slide moulded lower hull -192 individual tracks links -Photo Etched Parts included
The KV-13 program's KV-85 prototype was accepted for production as the IS-1 heavy tank. After testing with both 100 mm and 122 mm guns, the D-25T 122 mm gun was selected as the main armament of the new tank, primarily because of its ready availability and the effect of its large high-explosive shell when attacking German fortifications. The KV-122 replaced the KV-85, and began mass production as the IS-2 (Josef Stalin).
Source: Trumpeter
Wait, Searching Trumpeter 01570 for you…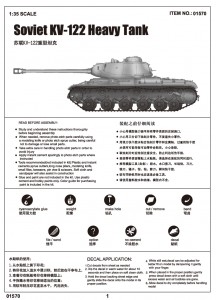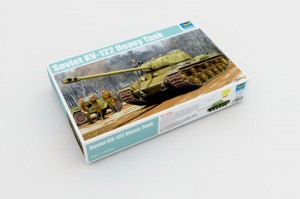 Wait, Searching Soviet KV-122 Heavy Tank for you…
Vidite lahko tudi :
Find items about "Soviet Heavy Tank" on AliExpress:
Views : 788
Iskanje z:
kv-122
kv 122
tank is122
Tank KV-85
IS-2
tank is 122
tank KV 122
tank kv 1
IS122
tank KV-122
sovětský tank Kv1
1/35 KV122
kv 122 tank
IS 122
sovětske težke tanky
JS-2スターリン重戦車
KV-122 Trumpeter
sovětský těžký tank is
tank js2
tanky KV