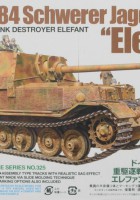 Ref

35325

Vrsta
Lestvica model
Lestvica
1/35
Temo

German Tank Destroyer Elefant
Model blagovne znamke Tamiya komplet: German Tank Destroyer Elefant – Tamiya 35325 .
Length: 236mm. Fighting compartment, 8.8cm gun, and cupola have been accurately reproduced. Bolt-on front armor, engine grille, and machine gun mount are depicted. Assembly type tracks have one-piece straight sections and feature a realistic sag effect. 1 commander, 1 loader, and 1 driver torso figures and 3 marking options included.
Wait, Searching Tamiya 35325 for you…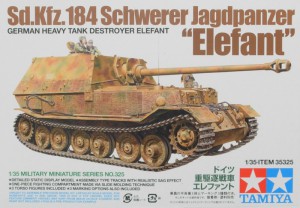 Wait, Searching Tank Destroyer Elefant for you…
Vidite lahko tudi :
Find items about "Tank Destroyer Elefant" on AliExpress:
Ogledov : 872
Iskanje z:
tamiya 35325
tank elefant
tamiya yamato
elefant tamiya
vokieciu tankas elefant
traffic shareaholic com
35325 tamiya
ferdinand tank destroyer
slaget vid kursk
panzerjager elefant kit imagen fotos model kit
Fredinand tank destroyer Tamiya 1/35
tamiya 35325 обзор
char éléphant tamya
char elefant tamiya 35325
cazacarros elephant
Ferdinand engine grill
tamiya missouri premium
tamiya # 35325
tamiya elephant
tamiya elefant 1/35