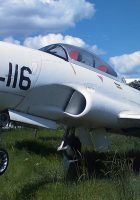 Lockheed T-33

Država
ZDA
Vrsta

Jet trainer aircraft

Proizvaja
1948-1959
Zgrajena
6557
Galerija a Lockheed T-33, The Lockheed T-33 Shooting Star (or T-Bird) is an American jet trainer aircraft. It was produced by Lockheed and made its first flight in 1948 piloted by Tony LeVier. The T-33 was developed from the Lockheed P-80/F-80 starting as TP-80C/TF-80C in development, then designated T-33A. It was used by the U.S. Navy initially as TO-2 then TV-2, and after 1962, T-33B. As of 2015, Canadian-built examples were still in-service with the Bolivian Air Force.
Počakajte, Iskanje Lockheed T-33 fotografij za vas...

Lockheed T-33

Fotograf
Neznani
Lokalizacija
Neznani
Fotografije

39
Počakajte, Iskanje Lockheed T-33 za vas...

RT-33 Walk Around

Fotograf

Andrew Birnie

Lokalizacija
Neznani
Fotografije

45
Lockheed T-33A Shooting Star Walk Around

Fotograf
John Pekel
Lokalizacija
Moffett Field
Fotografije

56
Povezani sklopi:
Clic za Iskanje
Našli kompleti na eBay:
Iskanje na eBay
Iskati tisto, kar potrebujete, priporočamo, da to, vendar to je vas, ki se odločijo,
Vidite lahko tudi :
Lockheed T-33B Walk Around
Fotograf
C Hendriks
Lokalizacija
Neznani
Fotografije

43
Lockheed T-33 – WalkAround iz NetMaquettes
Views : 2770