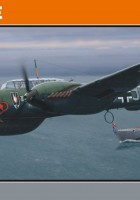 Eduard

Ref
7083
Vrsta
Vojaški Model
Lestvica
1/72
Temo

Bf 110E ProfiPack Edition
Model blagovne znamke
Eduard
komplet:
Bf 110E ProfiPack Edition – Eduard 7083
.
The Bf 110E in 1/72 by Eduard is a brand new and awaited kit. The type series is opened by the E version which is covered in the box by five attractive decals. Kit consists from 8 plastic frames, which components will satisfy by fine details and perfect fitting of every plastic parts. The ProfiPACK edition also means that the painting mask and photo-etched accessories are included. Simultaneously with this Bf 110E 1/72 scale kit is released a fine portfolio of aftermarket accessories in:
Eduard Brassin skladu 672002 – nos pištole
Eduard Brassin skladu 672003 – kolesa
Eduard Nalepke (D72001 – dodatne nalepke za štiri več označbe)
Eduard Foto-etch (še bolj podrobno set – 72542 in barvno delavnica lestev 73454
Počakajte, Iskanje Eduard 7083 za vas...
Počakajte, Iskanje Bf 110E za vas...
Vidite lahko tudi :
Find items about "messerschmit" on AliExpress (c):
Ogledov : 273
Iskanje z:
eduard 7083
eduard bf 110 1/72
eduard bf 110e
bf 110 e eduard 1/72
Eduard 1/72 Kit 7083 Me110E Profipack
eduard 1/72 me-110 e
eduard 1:72 Bf-110 review
eduard 7083 110
eduard 7083 1:72 messerschmitt bf 110e
Eduard 7083 Messerschmitt Bf 110 E
Eduard 1/72 bf-110E 7083
eduard 1/72 bf 110E reviews
EDUARD 1/72 BF 110
big5321 eduard 1/72 u-boat ixc
Bf-110E от Эдика
エデュアルド Bf-110
bf-110 eduard 1/72
bf 110e eduard
bf 110 eduard 1/72 brassin
1/72 profi pack me 110e review