Mitsubishi A6M Zero

Country
Japan
Role
Fighter
First flight
1 April 1939
Built
10939
The Mitsubishi A6M "Zero" is a long-range fighter aircraft formerly manufactured by Mitsubishi Aircraft Company, a part of Mitsubishi Heavy Industries, and operated by the Imperial Japanese Navy from 1940 to 1945. The A6M was designated as the Mitsubishi Navy Type 0 carrier fighter (零式艦上戦闘機 rei-shiki-kanjō-sentōki), or the Mitsubishi A6M Rei-sen. The A6M was usually referred to by its pilots as the "Reisen" (zero fighter), "0" being the last digit of the imperial year 2600 (1940) when it entered service with the Imperial Navy. The official Allied reporting name was "Zeke", although the use of the name "Zero" was later adopted by the Allies as well.
Source: Mitsubishi A6M Zero on Wikipedia
Wait, Searching Mitsubishi A6M Zero for you…

A6M Zero Walk Around
Photographers
Dave Pluth & Ryan Toews
Localisation
Unknow
Photos
66
Related kits: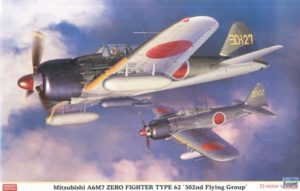 Mitsubishi A6M7 Zero Type 62 302nd Flying Group
Hasegawa
08249
1:32
Full kit
Clic for Search
A6M7 Zero Walk Around
Photographer
Unknow
Localisation
Unknow
Photos
36
Find kits on eBay:
Search on eBay

Search for what you need, We suggest this but it is you who decide

...
Mitsubishi A6M2 Zero Walk Around
Photographer
John Heck
Localisation
Unknow
Photos
24
Views : 6213