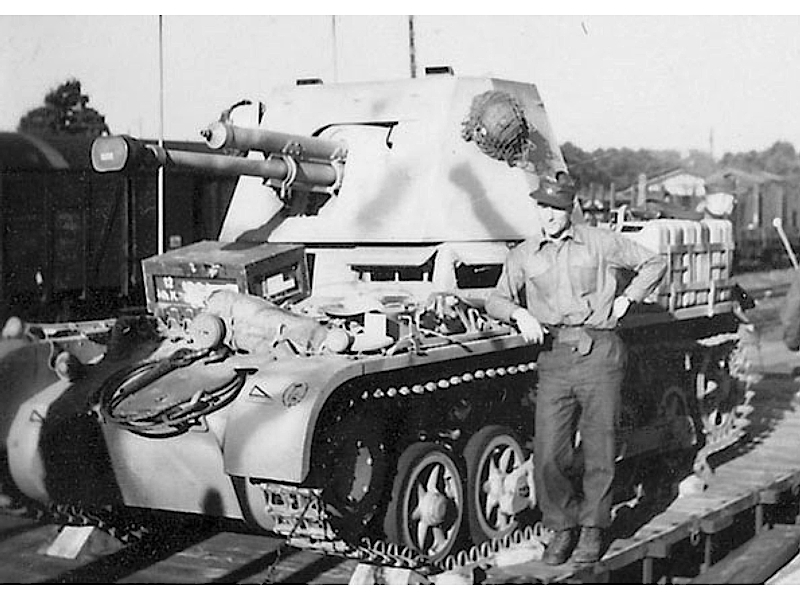 Panzerjager I - Panzer 35 (t) photo album - Hetzer

Sujet
Photos of Panzerjager I - Panzer 35(t) - Hetzer
Keywords
– Panzerjager I : Le Panzerjäger I (chasseur de chars en allemand) fut le premier des chasseurs de chars conçus par l'Allemagne au cours de la Seconde Guerre mondiale. Il était conçu en 1940 sur un châssis converti de Panzerkampfwagen I Ausf. B et était armé du canon antichar Skoda 4.7cm PaK L/43. Le Panzerjäger s'avéra être une solution peu coûteuse et relativement efficace pour contrer les chars soviétiques et permit de prolonger l'utilisation des chars Panzer I devenus désuets. Comme pour la majorité des chasseurs de chars, l'équipage était très vulnérable, sa seule protection étant fournie par le bouclier frontal du canon ; le canon avait en outre un faible rotation latérale. – Panzerkampfwagen 35 : Le LT vz 35 est de conception classique pour la fin des années 30, avec un blindage riveté, une tourelle pour deux hommes, et le moteur à l'arrière. Il est armé d'un canon Škoda vz 34 de 37,2 mm manié par le chef de char, et de deux mitrailleuses de 7,92 mm, une coaxiale et une en casemate. Un moteur Škoda à six cylindres déploie 120 chevaux. Il se situe à l'arrière du char, avec la transmission à six vitesses ; les roues motrices sont les roues arrières. Le tank est porté par huit roues sur quatre essieux, avec une roue libre à l'avant. Détail original, la transmission et la direction sont assistés avec de l'air comprimé, ce qui permet au conducteur de moins se fatiguer. Cependant, ce mécanisme a posé des problèmes quand les Panzer 38(t) ont été déployés dans le froid extrême du front russe.
– Hetzer In: The Jagdpanzer 38, (Sd.Kfz. 138/2) known as Hetzer (which can be translated approximately as a Tracker or Trapper in German), is a German world war ii tank destroyer built on the chassis of the Czech Panzer 38(t).
Source: Panzerjager I on Wikipedia

Source: Panzerkampfwagen 35(t) sur Wikipedia

Source: Hetzer on Wikipedia
Wait, Searching Panzerjager I - Panzer 35(t) - Hetzer for you...

Find kits on eBay:
Search on eBay
Search for what you need, We suggest this but it is you who decide
You can see also :
Related kits:
Views : 1973