Ref
0

1571

Onderwerp

Models

Schaal
1/35
Sujet

Soviet SU-152 Self-propelled Heavy Howitzer
Een model van het merk Trumpeter de kit: Soviet SU-152 Self-propelled Heavy Howitzer – Trumpeter 01571.
Features : The kit consists of over 460 parts -the kit w/refined detail -multi-slide moulded lower hull -192 individual tracks links -Photo Etched Parts & Metal gun barrel included
History: The SU-152 (СУ-152) was a Soviet self-propelled heavy howitzer used during World War II. It mounted a 152 mm gun-howitzer on the chassis of a KV-1S heavy tank. Later production used IS tank chassis and was re-designated as ISU-152. Because of its adopted role of as an impromptu heavy tank destroyer, capable of knocking out the heaviest German armoured vehicles—Tiger and Panther tanks, and Elefant tank destroyers—it was nicknamed Zveroboy, "beast killer".
Wait, Searching Trumpeter 01571 for you…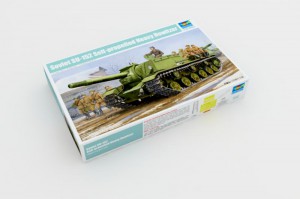 Wait, Searching SU-152 for you…

Je kunt ook zien :
Views : 656