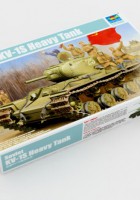 Ref
0

1566

Type
Maquette
Schaal
1/35
Onderwerp

Russian KV-1S
Een kit van het merk Trumpeter de kit: «Russian KV-1S – Trumpeter 01566».
The kit consists of over 440 parts – the kit w/refined detail – multi-slide moulded lower hull – 192 individual tracks links – Photo Etched Parts & Metal gun barrel included
KV-1S – A lighter variant of late 1942 with higher speed, but thinner armour. A new, smaller, cast turret and redesigned rear hull were used. 1370 were built. In response to criticisms, the lighter KV-1S (Russian language: КВ-1С) was released, with thinner armour and a smaller, lower turret in order to reclaim some speed. Importantly, the KV-1S also had a commander's cupola with all-around vision blocks, a first for a Soviet heavy tank. However, the thinning-out of the armor called into question why the tank was being produced at all, when the T-34 could seemingly do everything the KV could do and much more cheaply. The Soviet heavy tank program was close to cancellation in mid-1943.
Wait, Searching Trumpeter 01566 for you…
Wait, Searching Russian KV-1S for you…
Je kunt ook zien :
Find items about "tank kv" on AliExpress (c):
Bekeken : 268
Te vinden door:
trumpeter 01566
trumpeter kv-1s
01566 trumpeter
trumpeter kv 1s 01566
обзор 01566 1/35 танк кв-1с
trumpeter kv-1s 1/35
trumpeter 1566 kv-1s
Trumpeter Models English
new trumpeter kv-1s
détails tourelle kv1s
trumpeter 01566 review
kv1 s trumpeter
руский трубач
KV1 S TRUMPETER 1/35
kv-1s trumpeter
kv-1s russian tank pictures
kv-1s photo etched
kv 1s historia
kv 1 s trumpeter
1/35 trumpeter kv-1s 1566 review