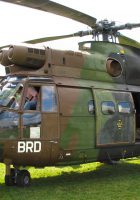 Aerospatiale SA330B Puma

Land
Frankrijk
Type
Medium transport/utility helikopter
Eerste vlucht

15 April 1965

Gebouwd

697
Foto galerij van een Aerospatiale SA330B Puma, The Aérospatiale SA 330 Puma is a four-bladed, twin-engined medium transport/utility helicopter. The Puma was originally built by Sud Aviation of France, and continued to be made by Aérospatiale. It was also license-built in Romania as the IAR 330; an advanced, unlicensed derivative, the Atlas Oryx, was made in South Africa. The Puma was a commercial success and was quickly developed into more advanced models such as the AS332 Super Puma and AS532 Cougar, manufactured by Eurocopter since the early 1990s. These descendants of the Puma remain in production in the 21st century.
Wait, Searching Aerospatiale SA330B Puma photos for you…

Aerospatiale SA330B Puma Rond te Lopen
Fotograaf
Jean Thomas Rembert
Locatie
Onbekend
Foto ' s
57
Wait, Searching Aerospatiale SA330B Puma for you…

Aerospatiale SA330B (1024) Puma Walk Around

Fotograaf
Jean Thomas Rembert
Locatie
Onbekend
Foto ' s
27
Aerospatiale SA 330J Super-Puma Rond te Lopen
Fotograaf
Meindert de Vreeze
Locatie
Onbekend
Foto ' s
68
Pakketten vinden op eBay:
Zoeken op eBay
Zoeken naar wat je nodig hebt, raden We dit maar het is u die besluiten
Je kunt ook zien :
Verwante kits:
U kunt hier commentaar :
Aerospatiale SA330B Puma – WalkAround van r/NetMaquettes
Views : 1350