Rif
0

2866

Argomento

Models

Scala
1/48
Argomento

Supermarine Attacker F.1 Fighter
Un modello del marchio Trumpeter il kit: Supermarine Attacker F.1 Fighter – Trumpeter 02866.
Features : The kit consists of over 90 parts , includes 2 clear parts – fuselage&wing with finely engraved panel lines
Il Supermarine Attacker was a British single-seat naval jet fighter built by Supermarine for the Royal Navy's Fleet Air Arm (FAA). It was the FAA's first jet fighter. The first production Attacker F.1 flew on 5 May 1950 and operational service began in August 1951 with No 800 Squadron FAA. Subsequent versions were the FB.1 fighter-bomber with provision for underwing ordnance and the FB.2 which differed mainly in its Nene Mk.102 engine. The Attacker served with only two FAA front line squadrons and had been relegated to Volunteer Reserve units by 1954 and retired two years later. Between 1952 and 1953, 36 Attackers were sold to the Pakistani Air Force (PAF). The aircraft was replaced in the PAF in the 1960s.
Wait, Searching Trumpeter 02866 for you…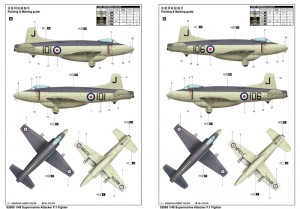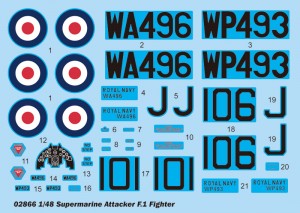 Wait, Searching Supermarine Attacker F.1 Fighter for you…

You can see also :
Find items about "Supermarine" on AliExpresS (c):
Vista : 568