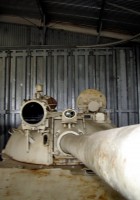 Tipo Di 69 (Iracheno)

Paese
Cina-Iracheno
Ruolo
Serbatoio di battaglia principale
In servizio

1982–present

Costruito
Unknow
The Type 69 (Chinese: 69式; pinyin: Liùjiǔ shì) and Type 79 (Chinese: 79式; pinyin: Qījiǔ shì) are Chinese main battle tanks. Both developments of the Type 59 (based on the Soviet T-54A), they were the first main battle tanks developed independently by China.Their lineage can be seen through the distinct gap between the first and second roadwheels. Other improvements included a new engine, ballistic computers, and laser rangefinders. The more advanced Type 79 was equipped with a 105 mm rifled gun, also seen on the later Type 88 tank. Iraq: -Type 69-QM – Also known as T-55B inside the Iraqi Army. Type 69-II with standard 100 mm rifled main gun, armour reinforced with layer armour on the front glacis, an observation mast and, on some units, a 60 mm mortar. Command vehicles often fitted with blocks of appliqué spaced armour, similar to the so-called Enigma T-55s. Produced 1986–1988. -Type 69-QM1 – Type 69-II upgraded with NATO standard 105 mm rifled gun and laser range-finder. Produced 1984–1988. -Type 69-QM2 – Type 69-II upgraded with Warsaw Pact standard 125 mm (L80) smoothbore main gun and laser range-finder. Produced 1986–1991.
Fonte: Type 69 (Iraqi) on Wikipedia
Wait, Searching Type 69 (Iraqi) photos for you…

Type 69 (Iraqi)
Fotografo
Azrael Raven
Posizione
Unknow
Foto
74
Wait, Searching Type Type 69 (Iraqi) for you…

Specifiche
Peso

36,7t

Lunghezza

6,24m

Larghezza

3,30m

Altezza

2,80m

Equipaggio
4
Correlati kit:
Norinco Type 69-II Walk Around
Fotografo
Darren Baker
Posizione
Unknow
Foto
44
Trovare i kit su eBay:
Cerca su eBay
Ricerca di che cosa avete bisogno, Noi suggeriscono questo, ma sta a voi decidere
T-69 Walk Around
Fotografo
Unknow
Posizione
Unknow
Foto
112
You can see also :
Potete commentare qui :
Tipo Di 69 (Iracheno) – WalkAround da r/NetMaquettes
Views : 2949